Cosmos of Evermore Cruises is the first luxury yacht cruise ship, ever to sail in the Greek seas.
Measuring 70 m in length, 10 m in width and 3 m draught, COSMOS is a historic vessel, that's been totally reconstructed and fully renovated complying with the most modern standards of naval architecture and the strictest safety standards of the ABS (American Bureau of Shipping) classification society. Her cruising speed is up to 16 m/h and has a capacity of 600 passengers.
The designing statement for the interior was to create luxury through clean cuts, using upscale decoration material and high-end furniture.
The six brand new bars in various locations on board the vessel, were designed for unique leisure and luxury experience to serve passenger's desires at all times. The four spacious luxurious lounges, have their own different pattern décor which creates a beautiful mosaic of styles and colors offering passengers comfort and entertainment that the cruise market has never experienced before.
COSMOS is equipped with audio-visual systems of the highest technology. There are 17 TV sets, all running independently, in order to covering all customes' requirements. A modern kitchen featuring the latest equipment for all kinds of cuisines. The exclusive First-Class Cabin is located on the Top Deck of the ship, elevating privacy, relaxation, and luxury, equipped with a king-sized bed, two TV sets, prive ́ lounge, mini-bar, and a private bathroom with shower, is comparable to a 5-star hotel. All facilities provided on board, are top of the range.
Cosmos is an ideal setting for both private and corporate events such as parties, weddings and celebrations of all sorts.
The exterior spaces on Cosmos are as stunning as the interior is. On the luxurious top deck, passengers find polished wooden floors, impressive shades in futuristic shapes and hidden lighting. All the furnishings are made from materials of the highest quality. The stylish design and minimal decoration introduce passengers to the wonderful experience of sailing on a luxurious yacht.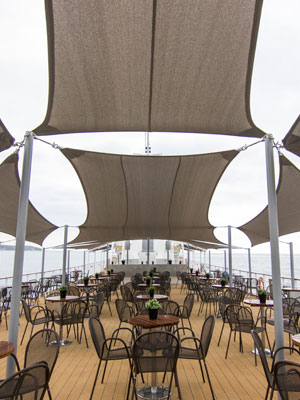 VIP Cruise
Services & amenities
---
Cosmos' luxury First Class cruise from Athens is the ultimate travel experience for distinguished passengers who appreciate privacy and exclusivity. Our luxury First Class travel is in a class of its own offering a package of exclusive advantages. Our philosophy is 'Unforgettable Hospitality' therefore, our passangers can expect a five-star journey of the senses on their one day cruise from Athens (Hydra, Poros, Aegina).

The First class lounge of Cosmos with capacity +80 passengers, promises her customers an unforgettable VIP cruise experience.

When cruising with our ships, our distinguished passengers will experience the utmost comfort during our luxury cruise. Our First Class areas, promise our passengers the ultimate First Class travel experience on the Athens Day Cruise to the Saronic Islands.